(Thanks to

for this!)
Tendo: Alright, the planet's basically pre set to die, and the conquerors are ready. It's time to settle this debate once and for all.

Tempo: It's time for a DEATH BATTLE!

---
Planet Namek..

Two flight trails were left by elites in a certain conqueror's army. One was green, and one was pink. They flew through out and scouted the green colored planet of Namek, flying through.

One of the Ki, the pink one, was used by a large and rather round minion of Frieza, in blue and yellow armor with black pants. He was pink skinned, having purple skin around his lips that looked like lip stick, but was doubted to be that.

Beside him to the right was a light green skinned and dark green pony tailed elite, having similar armor to that of his partner, but in lighter colors. This one was Zarbon, their partner being Dodoria.

Both wore Scouters. Dodoria had a green one, while the alternative had a blue. Zarbon was checking his Scouter, attempting to scan around in search for seven items of one group. The Dragon Balls.

Dodoria interrupted "Wait, I think I see something.." before flying down towards one of the small islands of Namek, smashing through a small mountain on it to shatter it apart into small bits that fell into the water around him.

In front of him stood a small brown Mushroom shaped creature, with shoes but rather small in general. Next to him was a orange ball with four red stars on it.

This was one of another army, known as a Goomba. Dodoria looked in confusion a bit, mumbling "This trash ain't part of our army. And it doesn't look Namekian. Eh, it's time for it to die anyways."

CRASH!

Red blood was splattered around the island, but not much. The Frieza Army Elite had crushed the simple goon with his foot, picking up the Dragon Ball. He flew back up to return to Zarbon with what he had achieved.

Zarbon chuckled a bit when approaching Dodoria, putting his hand around his Scouter to grab it partially. "That mere creature only had a power level of 30. Their sources must be as weak.. But maybe they'll have the Dragon Balls then."

Dodoria nodded in agreement, the two deciding to fly off in an attempt to find where that Goomba had come from.

Meanwhile..

BOOM!

A purple soldier was quickly blasted into a mountain, with a large crack left in it as he fell down to the light green grassed ground. The black and yellow armor wearing soldier was named Cui.

He begun standing, holding his arm for a second. A yellow creature holding a wand and having a blue magic robe and hat. This was Kamek the Magikoopa. Cui attempted to make a run for it, turning back and dashing off into flight. However, the Magikoopa had intentions to follow.

That was, until a message appeared on the ball of Kamek's wand. The face was hidden, but a deep voice said "Come back to the Airships." and Kamek obliged without question, teleporting back.

Bowser's Airship..

Above Namek, a fleet of brown colored airships flew over the horizon. The leading one had the face of a certain Koopa King on it. In that ship itself, in the main room was a brown floor with a red carpet, leading up to a black stone throne that one of the fighters themselves sat atop.

The one in the throne was Bowser Koopa. Orange and yellow skinned, large green spiked shell, red hair, and black chains with spikes around his arms.

Kamek appeared in front of the Koopa King, saying "Sire! This planet is inhabited by some alien races. I held one off, but I fear that there might be more then just that in our way."

"Bring in the army then. Some bland aliens don't stand a chance!" gloated Bowser. Kamek continued his report with "Although, we didn't find any Dragon Balls yet." but got interrupted again by the King with "What are those things anyways? Sounds disturbing."

The Magikoopa had a blank face for a moment at the terrible attempt at a joke that was made. "The Dragon Balls, if we collect all seven, we will be granted any three wishes. We could wish for you to have immortality, a stronger army, or the entire world itself!"

"I'm interested." commented Bowser. "Now, what are those aliens--" but was interrupted.

The door behind the two slammed open, three minions of Bowser walking in. The leading one was a red shelled Parakoopa with a bucket on his head, known as Corporal Paraplonk. Next to him was Sergeant Guy, a green Shy Guy with a bag of various weapons. And on the other side of the Parakoopa was a Goomba in blue pajamas with a paper hat, known as Private Goomp.

These three were the Elite Trio.

Paraplonk pulled out a small concealed bag from Sergeant Guy's backpack. The plastic bag had some blood in it, which the Parakoopa said "Sire, while investigating, we found these samples of blood. After testing them, they belong to one of the Goombas in the army."

Bowser responded "So what? The aliens killed a Goomba. I have plenty of those."

"Well, this Goomba might of found a Dragon Ball. A place was left in the ground, a circular place, as if a ball of the exact same size was on it." explained Paraplonk. "This means the alien army already has one of the Dragon Balls."

"Crap." was all Bowser said, sitting there for a moment. Before leaning his shoulder to the side of the throne, he demanded "Kamek! Paraplonk! Get the entire army and get out there! Don't return until you've brought back all seven of them!"

Kamek, Paraplonk, Sergeant Guy, and Private Goomp all set out through the door to gather the army.

Meanwhile, again..

Frieza's Spaceship..

The alternative army was already in the lead, having one Dragon Ball in the spaceship that sat on the far other side of Namek. Inside the ship's main room, Zarbon and Dodoria entered, the pink Elite holding the Four Star Dragon Ball, to give the information.

In a mobile throne sat the Emperor themselves. A grayish pink skin, armored like the rest of his army, having black horns, and a pink tail. Also rather short, compared to his other forms. This was Frieza.

"Lord Frieza!" called out Zarbon, stopping, as Dodoria set the Dragon Ball to the side. "We've come into contact with another species on here. Dodoria casually took them out and their power levels were disgustingly pathetic, but they did have this Dragon Ball."

Frieza responded "What did they look like?" in his partially pitch yet intimidating and evil voice. Dodoria stepped in front of his ally, responding "Small, brown, and mushroom shaped. Weird little thing. Doubt they'll get in my way anyways."

But the three were interrupted, as Cui, the soldier from before, ran into the room in fear. "Lord Frieza! T-the alien army we encountered has some.. stronger then expected soldiers on their side.."

Frieza wasn't too interested, commenting "Cui, you're weak. It must of just been one of those brown things Zarbon and Dodoria took out. Now, get onto finding the Dragon Balls. Now."

Cui wanted to bring up that it wasn't a Goomba, but instead something else entirely. He choked back, trying not to question his leader.

The three began to leave the room, starting with Cui, followed by Dodoria. Before Zarbon exited, the Emperor commented "Zarbon. Bring the army with you as well. And don't come back until you've gotten every last Dragon Ball."

"Yes, Lord Frieza." obliged Zarbon, before running off to follow the other two. Frieza sat still for a moment, quickly reaching over to open up a tech fueled screen, beginning to start typing to open something up.

Namek, about 20 minutes later..

"GAH!"

Cui was laying on the ground in pain. Kamek and the Elite Trio were in front of him, as quite a lot of his blood was already leaking out. And the battle hadn't even begun for the most part.

The Magikoopa walked over, picking up the Scouter on his face. He handed it to Paraplonk, demanding "Bring this to Sire. I'll deal with him.". The Parakoopa nodded, before flying off as the other two members of the Elite Trio ran behind him.

Kamek's wand began to glow with a cyan color. Cui tried standing, begging for his life starting with "Spare me!". The Magikoopa said "Fine.." but not in the way he wanted. He blasted forward ice, smashing the Frieza Soldier into the wall, freezing his arms to the mountain behind them.

Before Cui could even beg anymore, Kamek warped away back to the airship.

Bowser's Airship..

Bowser held the red colored scouter in confusion, questioning to the Elite Trio "What the heck is this supposed to be?". Sergeant Guy responded "One of the soldiers of that other army had it. No idea what it's supposed to even do."

But before they carried on, the Scouter suddenly began ringing.

A familiar voice came from the Scouter, saying "Cui. I need you to report back to my ship."

"..."

"..."

Bowser and the Elite Trio looked up at each other. Kamek warped in behind the trio, which led another voice to come out of the Scouter saying "What was that? Still wasting your time with those small brown fools? Hmph. Answer me now, or face the con--"

"HEY!" yelled Bowser Koopa, getting a rather strong grip on the device. "Who do you think you are, trying to mess with our army? Someone after the Dragon Balls?" but he got a response of "I am Lord Frieza. It seems you killed Cui. I can't say I'm surprised."

"I'm Bowser Koopa, leader of the other army. And you're going down!" angrily yelled the Koopa King. Frieza commented "Hmph. Hot headed, it seems. If you're as strong as your army, I'll be wiping you off the map. But first, I'll be sending my invasion."

Seconds passed, and eventually Frieza's Spaceship had several soldiers swarming out of it. Bowser yelled "Attack them!" which sent Kamek to lead the entire army of Bowser out there. Several Clown Cars were in air of several of the minions, including the Koopalings. Bowser Jr. was demanded to stay behind with Bowser until further notice, however.

The Airship Fleet flew ahead, Frieza's army covering the air and surrounding the spaceship.

Bowser yelled "IT'S ON, FREAK!" before crushing the Scouter in his hand. Back at Frieza's spaceship, he crossed his arms, seeing the static on his screen of Bowser "hanging up".

"You don't seem to know what mistake you have just made.."
Several of Frieza's soldiers began flying down to start their attack. The Airships on the Koopa King's sides were firing out several Bullet Bills out of the cannons, directly towards the opposing army.
Plenty of soldiers had taken the shots, being blown out of the sky. Dodoria flew straight forward to smash a Bullet Bill apart, blasting a beam from his mouth towards one of the airships, easily knocking it out of the sky.
Before he could do anything else, the Blue Shell of a blue Parakoopa smashed into him, revealing to be a Blue Paratroopa from one of Mario and Luigi's last adventures. The Paratroopa smashed downwards to throw down the pink Soldier.
Dodoria stopped his falling with his flight, blasting up several Ki Blasts to his opponent. The Paratroopa took the blasts, being knocked away rather farly, but still trying to keep balance.
The Blue Paratroopa spun in it's shell, bouncing off one of the mountains on an island. Dodoria looked around, but soon took a hit in the back from the shell, leaving a cut on his armor, knocking him down a slight bit. The Frieza Soldier Elite was already mad, but help would soon be arriving.
Zarbon flew next to Dodoria, putting his hand forward while yelling "Elegant Blast!" before firing out a yellow beam. The Paratroopa looked to the blast, taking the hit head on and soon being burnt and blasted to pieces, merely just part of his shell falling down towards the water.
SMASH!
The two Frieza Elites looked behind them to see where the sound had come from. A large red and black metalic Goomba known as a Choomba landed on the island below them. And multiple ones landed with him. Dodoria cracked his knuckles, taking interest in thinking he could have a good match against these guys.
But behind the duo flew more and more Blue Paratroopas. Zarbon crossed his arms, looking back at his ally and saying "You take the black ones down there. These guys will be facing me.." giving off a glare to the Blue Paratroopas afterwards.
Dodoria flew downwards towards the island below them, smashing onto the ground to quickly surround himself around the Choombas. Smoke was blowing out of their heads as they all began to charge forward.
The Pink Frieza Elite quickly punched one of them away, turning to catch a dashing one and was being thrown back with him at hand. The Elite picked up the Choomba with brute force, throwing him at another one to smash both off, blasting several Ki Blasts towards the three remaining Choombas, blowing them back.
Zarbon landed behind Dodoria, after quickly finishing off their opponents. Several blue shells had fallen behind them into the ocean, the green skinned Elite notifying "The opposing army's main forces seem to be taken out by our remaining allies. We've won the battle already."
The battlefield was silent.
"..Huh. Shouldn't our side be celebrating?" questioned Dodoria. Soon, seven crashes were heard, and seven figures in vehicles appeared behind them. Dodoria and Zarbon looked over from the island they were on.
They were all Koopas in variously colored Clown Cars. The one in the lead of them was blue fancily haired, another one with a pink bow, one with a rainbow mohawk, one wearing pink sunglasses, one darker colored having a short bit of hair, one with a blue mohawk, one with green broccoli like hair and glasses..
And one last one flew in, looking similar to his father, Bowser, but far younger.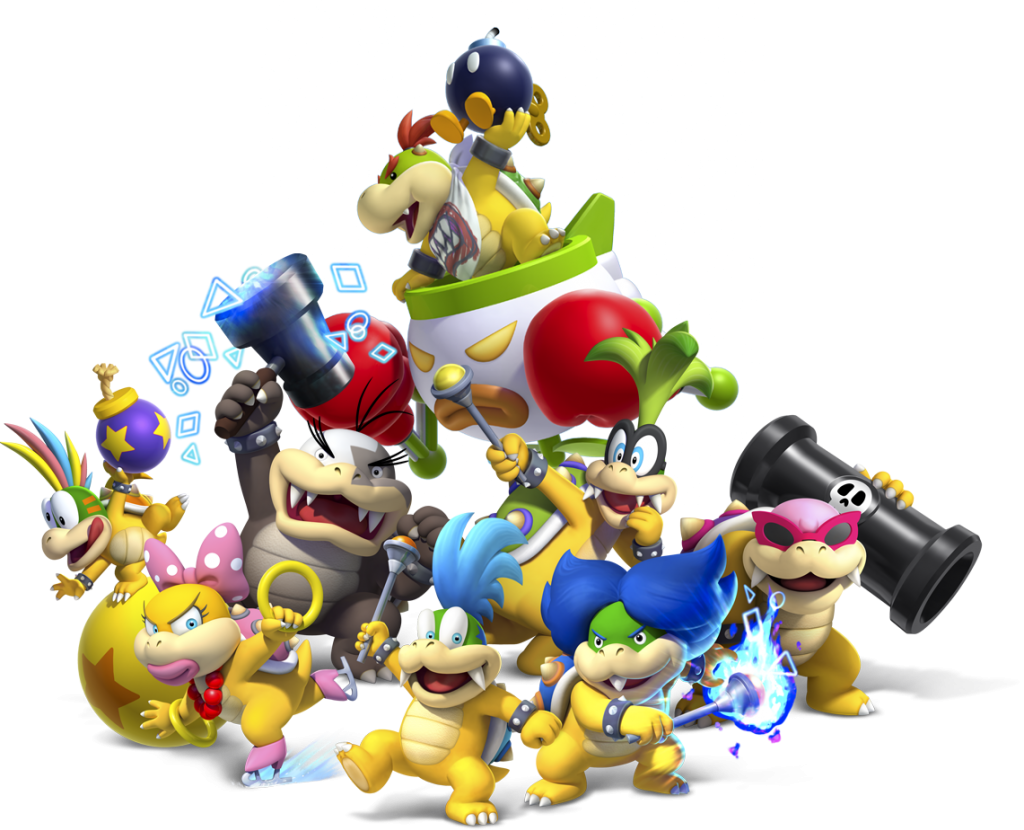 They were the Koopalings..
And Bowser Jr.
Ludwig, Larry, Wendy, Morton, Roy, Iggy, and Lemmy.
Their clown cars flew into the air, flying around the duo. Dodoria was rather worried of what power the small guys had, while Zarbon felt confident. Suddenly, drills for four of the Koopalings, and boxing gloves for the other three and Junior sprouted from their Clown Cars.
All of them flew forward, slashing or bashing into the two Frieza Elites, rather easily throwing them away from their higher number's power. Zarbon barely landed at the edge of the island, Dodoria being thrown into the Elite to knock both of them off.
The two Elites flew out, Zarbon grabbing his Scouter, fearfully commenting "Call Lord Friez--"
"No need." said a odd and unfamiliar voice from afar.
Five more figures appeared. The spoken voice being the front of them, and their leader. Bowser Jr. commented "Looks like the odds are evened. I'm gonna go after their leader now!" smirking, flying off in his Clown Car to attempt finding Frieza's Spaceship.
The leader was a tall and purple alien with the power to change bodies. Next was a short green telekinetic one. A powerhouse baby brained red haired brawler. A red skinned "Red Magma.". And the claimed "fastest thing in the universe."
"Guldo!"
"Recoome!"
"Burter!"
"Jeice!"
"Ginyu!"
"Together, we are.."
"The Ginyu Force!"
The Koopalings were already confused at what their eyes were witnessing here. As the Force posed, Dodoria and Zarbon stood on parallel sides. The Pink Elite next to Recoome, and the Green Elite next to Burter.
"Seven on seven. Which one of you punks is fighting us?"
Roy's Clown Car's boxing gloves activated, alongside the Koopaling pulling out a Bullet Bill launcher. He gave a glare at Dodoria from his sunglasses, flying upwards. The Pink Elite followed after him.
A Chain Chomp was quickly released from the back of Iggy's vehicle, confusing the enemies on how it fit there. The Koopaling flew towards the Ginyu Force, tagging Guldo, dashing off. The Telekinetic Fighter followed after him in flight.
Zarbon and Wendy quickly flew into the air, a distance away from Roy and the other Frieza Elite, declaring their battle rather quickly. Recoome walked up to Morton, quickly pointing as he yelled "You!". Both flew backwards towards one of the opposing islands.
Larry and Lemmy were face to face with Burter and Jeice already. Those four were already prepared to battle, but by the sides of their leader. Ludwig and Ginyu, who were in between their respective teammates.
It was on.
Zarbon quickly began throwing several Ki Blasts towards Wendy, who was flying up and down to avoid them. The Koopaling pulled out multiple rings, beginning to fling them towards the Elite to try trapping or hitting them.
The Frieza Elite flew past them, closing in on the Koopa before kicking them away. Wendy stayed in air, blasting forward a cannon ball to point blank hit her adversary, nearly dropping them to the ground before they threw off the cannon ball.
Wendy moved out of the way, the cannon ball flying right past her. The female Koopaling began to throw out Mechakoopas, blasting cannonballs as well, towards Zarbon. The Elite held their hand forward, calling out "Elegant Blaster!"
The Koopaling's assault was blasted out of the sky, and after that, Wendy Koopa herself was.
---
Frieza's Spaceship..

(Stop music)

"Not here.. Not there.. Come on! Where is their leader guy!?" whined Bowser Jr. as he flew past the doors of the inner spaceship. He was already underestimating the power of Frieza and his army, but was now taking it to new heights.
"Guh!"
The Clown Car and Bowser Jr. were kicked away, falling into a wall to their sides from the impact. The Koopa fell out of his vehicle, standing, facing off against what hit him. "Hey! You must be their leader!"
"Heheheh..You believe I'm Frieza? You're mistaken."
"So that's their leader's name.." mumbled Bowser Jr. "Then who are you?"
The alien who attacked the kid was purple skinned, having a long tail, and white armor. A blue glass like object was around the top of his head as well. The Alien smirked, saying "I'm Cooler.."
"You're cooler then Frieza?" responded Junior in confusion.
"No, I mean--gah, whatever. Annoying brat. Prepare to die." finished Cooler.
---
Namek..(Resume music)
Roy was knocked back into a mountain with a punch from Dodoria. His Clown Car had taken most of the hits, but the Koopa pulled out a Bullet Bill Launcher, aiming it forward, and blasting away.
The Frieza Elite held his arms up to block, but was met with several explosions from the hits. Roy Koopa flew up to him, two arms with drills on them coming out of the Clown Car, which stabbed into his foe, beginning to release blood.
A large stick of wood was thrown past the two, breaking apart the mountain from earlier that Roy had crashed into. Guldo was floating there, rather tiredly. Iggy's Chain Chomp bit into him, slamming him towards the ocean ground.
The island that Guldo was thrown near had loud crashes coming from it, from Morton slamming his hammer down and Recoome countering with a punch, clashing multiple times with their full power. The Ginyu Force Member's armor was partially damaged, but he chuckled saying "That all you got?"
"OOF!" yelled Recoome, getting a quick hammer to the gut that threw him back. "That's it! Recoome Ultra Fighting Bomber!" yelled the Ginyu Force Member, Morton dashing forward to hit him again.
Guldo flew out of the water, landing on the island, as Iggy flew towards him again with his wand waving in the air. Zarbon, Dodoria, Wendy, and Roy landed into the island during battling, right as the red haired Ginyu Force Member used his ultimate attack.
BOOM!


The blast was strong enough to wipe out Morton, Iggy, Dodoria, Zarbon, Wendy, and Roy all in one go. Not as the Ginyu Force Member intended, but he stood there in pain for a moment.
"Guh.. Y-you guys were.. weak.." began Recoome, before falling over onto the nearly destroyed island. That was the end for him, from his own taken damage and attack. Only three Ginyu Force and Koopaling members remained.
Lemmy was constantly throwing several yellow colored balls down towards Burter, who was attempting to speed past and avoid each ball. The Blue Hurricane appeared behind the Koopa in an instance, smashing him downwards.
Burter appeared before Lemmy, dashing past him to take a straight forward punch at him. Lemmy Koopa was thrown back, the Blue Hurricane running behind him to take another punch, going before him to take another one, and rapidly going around him to take several hits.
The combo was ended by Burter kicking Lemmy Koopa to the ground. Before any attack could be made, the Ginyu Force Member was hit by Larry Koopa's Clown Car, but rather then it's flying form, it was in vehicle form.
Larry's car began spinning out, but he used this to begin shooting out cannon balls rapidly. Burter took a few hits from it, but wasn't too damaged. Larry Koopa dashed towards him, arms with boxing gloves on them coming out of the vehicle, as he began to rapidly punch the Ginyu Force Member.
Burter took a few hits, taking multiple counter punches rapidly at his foe to knock him away, ending with one kick to the Koopa himself, sending him out of the Clown Car. Larry slid across the ground, Lemmy beginning to get up.
Jeice landed in front of the Koopaling, saying in his Australian accent "Going somewhere, punk?" before kicking him away.
Ludwig and Ginyu both clashed in punches, the Koopa using the boxing glove function of the Clown Car for that. Both rapidly hit each other, but from their on going battle, both were already badly damaged.
The Koopaling quickly leaped to the side of his Clown Car, jumping off. The Ginyu Force Leader picked up the car, preparing to throw it, until the escape function suddenly left it to blow up in his face.
Ludwig von Koopa landed, putting his wand into the ground to release a powerful spell on it. Another Clown Car reformed under him as well, but the magic he placed made the island begin to float above the water, with all six of them on it.
Burter held up Larry by the throat, preparing to take a punch to finish the Koopa off. Suddenly, a blast of ice that split into several shards were sent into the side of the Blue Hurricane, knocking him back and dropping blood from him.
"What the!?" called out the blue Ginyu Force member, as he saw Kamek return to the battle, in front of him. The Magikoopa let out a laugh, holding his wand up to begin charging a blast.
Kamek threw the blast straight forward, hitting Burter to release a blast splattering him apart, dropping Larry. Jeice looked in shock seeing his fallen teammate, as he stood over Lemmy, his foot crushing the spine of the Koopa.
"W-why you.. CRUSHER BALL!" yelled Jeice, lifting his hand into the air and charging up a red ball. Kamek swung his wand forward, sending out three Koopa shells, two red and one blue, which clashed with the attack, both blowing up in the impact.
The Magikoopa appeared behind the Red Magma in an instance, swinging his wand down. Nothing seemed to happen, as Jeice turned around. Until a stone Thwomp came from above, smashing into the Ginyu Force Member to leave a slight crater into the ground.
Kamek commanded the Thwomp to continually go up and smash down, soon smashing Jeice apart with blood splattering from the crater he was in. Eventually, all that was left was a mangled corpse.
Ludwig was kicked to the side of the flying island, nearly falling off and grabbing the edge of it. Ginyu walked over, smirking. "Not so high and mighty now, are you?" since only two Koopalings were left.
Kamek flung a pebble towards Captain Ginyu, hitting him in the back of the head. He looked in confusion.
"Take on someone your own power." demanded Kamek. His wand began to glow, summoning a large green colored Clown Car next to Ludwig. "Ludwig, Larry, get in. Head back to Lord Bowser and get him to come find us! I'll deal with this."
Ludwig and Larry nodded their heads, leaping into the Clown Car and flying off towards the airship. It was mono o mono now.
Ginyu rushed forward, taking a straight punch at Kamek's face. The Magikoopa warped behind him, blasting him above and into the air, before teleporting next to them and releasing a firey blast to throw them into a tree.
The tree broke off, Captain Ginyu blasting forward several purple Ki Blasts. Kamek took the hits, but teleported to the ground, beginning to fire several of his common attacks of triangles, circles, and squares.
Captain Ginyu used an Explosive Wave, firing forward the large purple Ki Blast. The Magikoopa was hit head on, being thrown back some, but countered by raising his wand into the air. Several Bob-Ombs started falling, causing parts of the island to explode.
Kamek raised his wand into the air again, charging up a large red blast, throwing it forward. Ginyu countered with another Explosive Wave, both blasts colliding and clashing with each other.
The Ginyu Force Leader flew behind Kamek in an instance, and before they could react, the Magikoopa was kicked into the blast causing an explosion that sent them flying away and into the ground.
Bowser's main Magikoopa started to stand up, but was met with a kick to the face by Ginyu that threw them near the edge of the island. Kamek started to stand up, blasting several Koopa Shells spinning towards Ginyu.
Captain Ginyu caught one of the shells, crushing it in his hand. He then leaped up and kicked one of the other flying shells, countering it to slam into one shell, causing a chain reaction of several shells flying back.
Kamek created a force field to block the hits, but was quickly running out of options to defend himself. He knew with the speed of the Clown Car, Bowser should be there any minute now, but they still had to survive until then.
Ginyu blasted forward another large purple Ki Blast, Kamek firing a blue blast to counter. The two continued to throw the same blasts, countering each other out for a few seconds, before Captain Ginyu dashed in front of the Magikoopa to grab him by the throat.
"Weak. You're already tired out? You're the one who took out Burter and Jeice when they were already tired out! Pathetic." spoke Ginyu. "Whatever. You're outta time now, and now you die!"
Ginyu threw Kamek into the ground, sliding them across the island some. He charged up a large purple blast, throwing it forward to finish the job.
That was, until another red blast of fire came from the sky, hitting the Ki Blast to blow both of them up, saving Kamek in time. "What the!?" yelled Captain Ginyu. "What was that?!"
"Uh.." started Ginyu, seeing a shadow cast over him. It was the same Clown Car from before, Larry and Ludwig still in it. But one more figure was in it, who leaped out and landed in front of the Ginyu Force member, causing a slight crater upon landing.

It was Bowser Koopa.

The green scouter worn by the Captain started beeping rapidly. "What is this power level!? Gah, I don't have a choice." paniced Ginyu. He held his arms out, yelling "CHANGE! NOW!" charging up a yellow beam.

Bowser smirked. Larry threw a Goomba off the side of the Clown Car, which the Koopa King caught. Ginyu's body swapping beam blasted forward, but Bowser Koopa threw the Goomba into it, changing Ginyu and the Goomba.

"WAIT! NO! NO, NO, NO!" yelled the Captain in panic. Soon, he was in the body of a Goomba, and the Goomba had his body as an upgrade.

The Koopa King laughed, commenting "Don't think that Kamek was checking all the moves you had up your sleeve? Pathetic." before stomping onto the Goomba Ginyu, crushing him to death.

---

Bowser Jr. and Cooler were battling over Frieza's spaceship. The brother of Frieza was blasting flurries of Death Beams, but Junior used the boxing gloves of his Clown Car to block the shots, then unblocking to blast a cannon ball towards him.

The Koopa dashed ahead in his car, changing to drills rather then boxing gloves, stabbing into Cooler head on. The Alien ended the attack quickly however, punching his foe in the face to knock him down into the ground.

Junior's impact on the ship broke apart his Clown Car, leaving the Koopa to slide across the top in pain. Frieza's Brother floated down, beginning to walk forward in preparation to finish it.

But then..

"Don't finish him just yet, Cooler."

Frieza floated beside his brother, commenting "This was my war. And you're an uninvited guest, aren't you Cooler?". Cooler responded "Hmph. I figured you would need assistance. You weren't as strong as me anyways."

"I would take that as a challenge, but I want to wipe out these 'Koopas' myself. At least, that's what the database calls them. Now, go back home brother. I'm using this child as bait to find where their leader is." spoke Frieza.

"Fine then." Cooler responded, flying off to head back to his own ship for the time being.

"Now, child. Tell me. Where is your leader?" Frieza demanded, grabbing Bowser Jr. by the throat and floating upwards. The Koopa had to give his demands at this point, as he knew Bowser wouldn't be able to hide forever, even if he was trying.

---
20 minutes later..

Kamek warped him, Bowser, Larry, and Ludwig to another one of the islands since the one they were floating on was going out of atmosphere eventually. The Magikoopa spoke "Now that all of those minions are gone, all that's left is the leader."

Larry informed "Junior went off to go find him earlier back when we fought those creeps. He hasn't come back yet--"

Suddenly, Bowser Jr was thrown at the ground, hitting it rather hard and some blood being released from him. Above them floated Frieza, giving off an evil glare, mainly at the Koopa King himself.

(Stop music)

"You finally showed up." Bowser Koopa said, returning the glare. "Kamek. Take these three and go back to the airship. I'm killing this punk myself.". The Emperor started to float down as Kamek took the Koopalings and Junior back to the Airship, teleporting them.

Frieza landed on a hill, further away from Bowser, but not to far. "Our armies have spent enough time murdering each other. It's about time we went one on one, Bowser Koopa."

"Took you long enough to learn my name." the Koopa insulted. Frieza returned "Not very hard when a database of alien life forms has Koopas right in it. Eventually, you and them will be on the list of extinct races, by my hand."

"Nobody's taking down the Koopas this time. But whatever you are? You're going extinct next." Bowser challenged.

Frieza smirked. "Oh really? We'll see about that." as he crossed his arms, standing the distance. His tail hit the ground, and he took off his scouter and threw it to the side before crossing his arms again.

"Heheh.." laughed Bowser.

"It's Showtime!"

To be continued..
---

Tendo: Pause! We'll let these two rulers go at their throats when we return to DEATH BATTLE!

Tempo: You sound like some cheesy Nickolodeon or Cartoon Network commerical guy.

Tendo: Pausing you too, Tempo.

---
Meanwhile, on the other side of Namek..

Still frozen to the side of the mountain was Cui, still in pain after what Kamek did to him when he stuck him there. Looking around and seeing nobody around him except for bodies of the dead, he gave out a cry of wanting mercy.

"GUYSSS? HELLO? LORD FRIEZAAA! CAN YOU HEAR ME?"

"Shut up already!"

"What? Who's there?" Cui wanted to know, for it could help him.

Cooler floated in front of him. "Blabbing for all that time. It's annoying by this point, and I've only been near you for around twenty seconds.". "But are you going to help me?" asked Cui.

"Not a chance." Cooler responded, flying off again.

Cui stood there in silence, his arm entirely frozen to the mountain wall.

"Oh.. crap.."